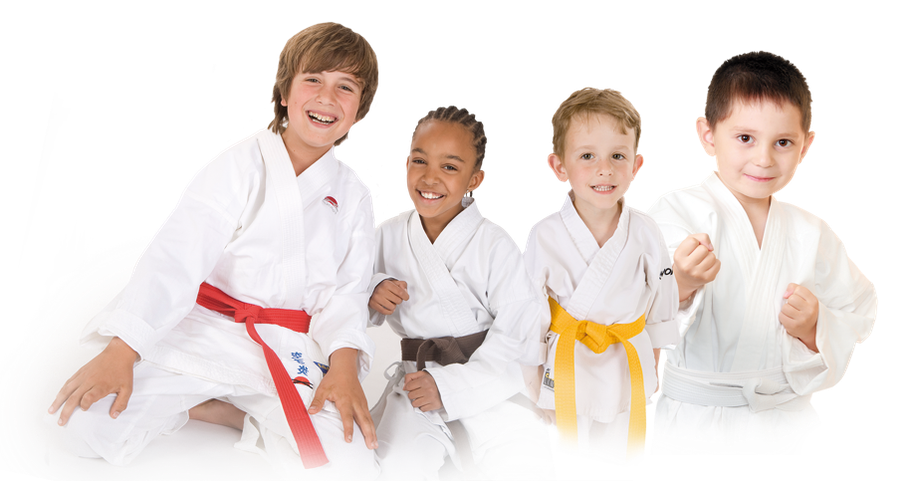 Our Programs
Welcome to East West Karate & Fitness. Martial Arts and Karate Lessons serving Mississauga and Oakville.
testimonials
Here Is Some Clients
Smart Feedback

We've been part of Team East West for about 4 months now and my son loves it.
This dojo is more than a place for your kids to learn karate, it's a real community. They have events such as picnics, Halloween parties, movie nights and more. We even held my son's birthday here and it was amazing. Most Dojo's don't accept younger kids because you hey are difficult to work with but the owner has kids of her own and understands exactly how to speak to them. As a protective mother, I know that my son is safe here if I need to leave him. If you're looking to enroll your kids in karate you won't find a better dojo than EWK!
Bhavnita Shah

Amazing dojo, Sensei and her team of instructors are world-class.
Always pushing their students to be the best version of a martial artist that they can be. You will learn life lessons and skills that will be with you for the rest of your life. Best investment for your kids and yourself.. EWK Rocks
Cheshire Dragon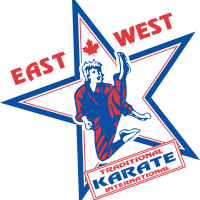 A great big THANK YOU to Sensei and the East West Team for the wonderful and amazing birthday party for our two little ninjas!
They had such a memorable time....breaking wood boards and even cutting their birthday cakes with a real Samurai sword!!! All the kids had so much fun!!! From the time we joined East West Karate, almost a year ago...we literally feel like family! Great job!!! Keep it up!!!
Christina P

Our daughters first attended EWK 2 years ago. Our 10-year-old at the time (who was being bullied at school)
found the dojo through one of her friend's birthday party. Fast forward to two years later we've noticed that she has become stronger, healthier and more confident thanks to her amazing Sensei and instructors. EWK also helped our younger daughter (3 at the time) gain more focus and patience, especially at school. Later in the year, my husband and I also joined the dojo and quit the gym. We really enjoy their adult classes because not only do we get an epic work out, but we also learn self-defense as a couple. After many years of fluctuating weight gain, I've now been able to maintain my goal weight and have lost 27 pounds. I definitely recommend this dojo for so many different reasons but if you're ultimately looking for a place to get healthier and train with world-class instructors, this is it!
Anna Egan

The teachers are driven and just incredible!
They go above and beyond the martial arts with emphasis on discipline, self-respect, and passion!
Stephane Patry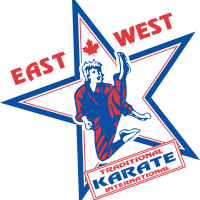 The Sensei at East West karate is one of the most knowledgeable and motivational teachers I have ever met.
I have been a student for 8 years. Sensei Magliocco and Sensei Flood have helped me to attain my personal goal of attending the World Karate Championships as a member of Team Canada. I attended the Championships with my older brother and my mother (both also qualified for Team Canada) and we all won medals in our divisions. If you want your child to learn from two world champion Sensei's this is the Dojo for you. Train with a champion if you want to be a champion.
George Konstantinou

My two sons have been under the excellent guidance and instruction of Sensei Christina Magliocco for 5 years now.
I have gained focus, confidence, a positive attitude, and respect, not to mention a tremendous knowledge of martial arts skills and safety awareness/self-defense skills.....all while having so much fun!! I recently joined EWK and I am also benefiting with exercise, martial arts knowledge and training, and having a great time while doing it! EWK has been a great addition to our family life, all thanks to the hard work and dedication of its owners/instructors.
Abdul Gaffar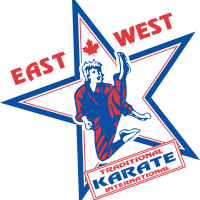 We have been with East/West Karate since 1998. Our sons, Freddy and Rocco, literally grew up at East/West Karate.
This positive environment has given them a safe place to train and learn about proper physical fitness. It has made them become healthier both physically and mentally teaching them how to balance their studies and their and training. East/West teaches discipline, respect and time management. Both Freddy and Rocco have become very motivated, eager young men with tremendous cardio and muscular strength. In 2008, Freddy received his Black Belt and became an Instructor. Rocco is presently working towards his Black Belt and training to become an Instructor. Under the supervision by the most outstanding Black Belt Instructors, East/West also teaches weapons, Extreme Martial Arts, Competition training, MMA. They also offer a variety of fun activities that the entire family can participate in such as Summer Camps, Birthday Parties, Christmas Parties, Halloween Parties, Summer Picnics, Movie nights and outings for parents, etc. East/West Karate is truly a fantastic Karate school to be a part of. We travel as a family to the tournaments and are greatly involved in the annual picnics. We really enjoy the monthly graduations. We are blessed to have been involved with this wonderful Karate School.
Grace & Phil Trigiani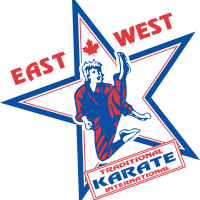 How East West has improved my son Jordon: Extremely dedicated to the dojo
His classes and delta students Willingness to always try his best keeps on trying no matter how many times it takes to accomplish it, with persistence comes success A admiration of the skills, knowledge, and enthusiasm of Sensei, Sempai and Instructors Respect of fellow teammates, parents, students, Instructors, Sensei and Sempai Appreciation and gratitude for all of the experiences that Jordon has gained since joining EW Teamwork, enjoys the camaraderie, support, and encouragement for all to become the best that they can be East West has aided in developing Jordon into a self-confident, compassionate, caring person who feels he is an integral part of the dojo – and he matters!!
Elzabeth Roberts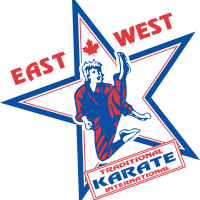 I have three children currently attending East-West Karate, and my oldest child is nearing 10 years of karate training at the club.
As a parent, I have seen each of my children benefit from the instruction they receive there. Their balance and coordination has improved; they have become more mentally focused, and physically stronger as a result of their training. Most importantly, however, the instructors at East-West Karate, notably Sensei Magliocco and Sempai Couto teach the children in a very positive and encouraging manner while instilling the virtues of self-discipline, bringing out each child's strengths and developing their self-confidence. East-West Karate has been a fixture in the extra-curricular lives of my children, and there is no question that they have worked hard and reaped many benefits as a result.
Sid Ali, Principal - Research and Evaluation Consulting, Ph.D.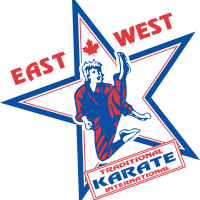 We would like to take the opportunity to thank you once again for all you have done for our son!
It has been over six years now that Jenia is training in East-West Karate and he has loved it from the very beginning. That is why he attended all possible karate classes. You have helped Jenia to grow up healthy (unlike some of his peers, who spend almost all of their free time on their computers), meet new good friends and develop a variety of very useful physical and psychological personal skills, such as increased strength, speed and focus, higher self-confidence and self esteem, etc. and continue to do so. We hope that he will also succeed in his new role as a member of the East-West Karate Delta Team, which will help him develop better communication, leadership and organizational skills and thus improve his chances in his future career endeavor.
Olena and Petro Andonov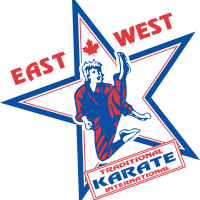 I remember my first few visits to this dojo very clearly. My son was only 7 and I specifically recall being so impressed with the young teaching assistants
mostly teenagers. I thought to myself that I could only hope that my kids would grow up to be something like those accomplished, respectful, and friendly teenagers, so comfortable talking to young kids and adults, alike. Today, eight years later, my hopes are realized as I have watched two of my own children grow into just such Delta Leaders at the dojo and I know that I owe so much of this to their experiences at East West, and specifically to Sensei and Sempai and their amazing program.
Mark Hadfield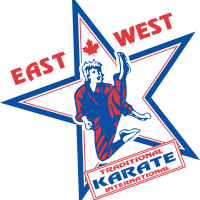 We have two sons and a daughter at East West and all three of them love it
for different reasons – the confidence it gives them, the exciting challenges it presents, the lasting friendships and camaraderie, and so much more. As parents, we expected to see the benefits of the discipline and focus that are traditionally associated with martial arts, and we certainly have seen those benefits in spades, but we have also watched our children become more confident in the way they present themselves in general, more willing to take chances and to compete in a huge range of activities, including public speaking competitions at school. We were thrilled to see our two eldest take on new challenges and responsibilities at the dojo as karate teaching assistants (DELTA Leaders). Truly, we can't say enough about what this program and, in particular, Sensei and Sempai, have given to our kids.
Pamela Hadfield, Lawyer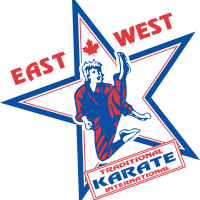 Both of our children have attended East West Karate for several years
–our daughter has received her orange belt but had to quit because of other competing commitments. Our son is currently enrolled in the green belt program. Both of our kids have thoroughly enjoyed attending East West Karate. Sensei and Sempai have not only been positive role models for our son and daughter, they have succeeded in allowing them to develop in karate, and to also build their confidence levels. We tried other schools, and because our children were young, they were very shy when we met with them. East West was the only school who spent one on one time with our kids and made them feel comfortable, and for that reason we chose them. The school is operated in an extremely organized manner. The "little things" like knowing each child's name is made a priority with instructors, and all of them are well liked. East West provides the proper balance of discipline and "fun", and this is also is demonstrated by all employees. The school goes out of their way to plan special events for the kids such as Halloween events, movie nights, and more, and we know our kids are safe when I leave them at the school for these events. We would highly recommend East West if you are looking for a well established reputable karate school for your children.
Mike and Julie Kowalski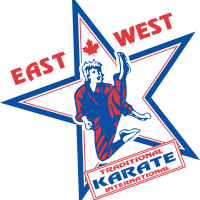 East West Karate espouses the values closest to our hearts: integrity, optimism and passion.
It is a special place where challenges are met and celebrated daily and when the constant encouragement of aspirations through positive reinforcement makes a difference. Evidence of success is in every respectful, professional and genuinely kind smile from students who greet you at the door. One can't help but marvel at the modest and truly talented Senior Students who share the infectious passion with their vested interest in the Dojo and its craft. Each brings uniqueness to teaching that allows their personality to truly shine. This offers a range of instruction other than the varied belt levels in a class very similar to a Montessori classroom. Students quickly learn that in karate class (as in life); comparisons with peers are inconsequential and that all instructors offer wisdom to be heeded. Also impressive are the continually high instructor to pupil ratios. There is always a chance for betterment with such individualized attention. Even when class sizes top out at 20 kids- I'm continually floored by the ability of Sempai to catch something from the corner of his eye and offer a quick intervention. The colourful, warm and inviting environment is fantastic compared with the dingy hollow sweat reeking Dojos I`ve seen before. The understated tremendous effort to organize and manage daily classes, gatherings and ceremonies is formidable and flawless. The dedication and extremely high calibers of instruction, knowledge and outright skill of Sensei and Sempai makes all involved want to repay their generosity of spirit and talent. On behalf of all the parents and countless wanna-be Bruce Lee`s and Uma Thurman`s in your midst THANK – YOU! Thank you for all you do for our families and most of all for making the world a better place through the East West philosophy. You continue to touch our lives immeasurably.
Roshni Dell, School Teacher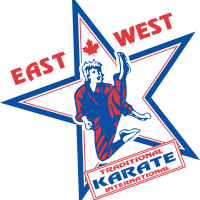 When my daughter Sarah joined East West karate she had already been part of an after school karate program here at the school which was horrible
so we weren't sure she would want to continue. You immediately showed her that there can be a reasonable balance between making something challenging and fun and you required a disciplined approach to the study of karate. At first I remember watching you as much as I did Sarah to see whether or not your teaching techniques were the best they could be. Sorry but as a teacher it's a natural thing to look for. I was very pleased to see how good the style of teaching is and how well all the students responded to it. When I finally joined myself, I was determined not to fail because although I knew what the techniques for teaching were, after ten seconds in the class they were motivating me as much as they do the younger students. You have so very much to be proud of. You are teaching these people the most valuable lesson, that in life all things worthwhile achieving require discipline, dedication, tremendous effort, as well as respect for the self, others and the goal one is seeking. I can't thank you enough.
Scott Cowle, Teacher - Mentor College